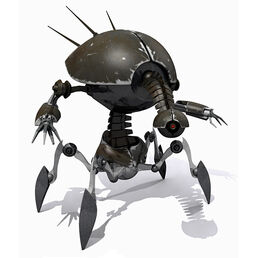 Squish is a hyper-intelligent robot who loves to stalk people for "evidence". He plans to create a robot army but he is too lazy to fulfill his dreams.
He also leads a rival Football team against the 60 Whiners, known as the "Robo-Boys". Whenever he beats McWhimples team, he gives McWhimple a bottle of car oil to drink down, much to McWhimples displeasure.
Ad blocker interference detected!
Wikia is a free-to-use site that makes money from advertising. We have a modified experience for viewers using ad blockers

Wikia is not accessible if you've made further modifications. Remove the custom ad blocker rule(s) and the page will load as expected.