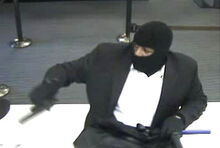 Nigel is a known thief and bank robber who has been dubbed "The worst robber around". His competence is around the Radioactive Uber Clans level, which explains why he always fails robbing banks and people. One time he tried to rob and shoot Hatter only for him to shoot his own leg and he went home crying.
He has a curse where he can come back to life after death that comes from his own idiocy. Similar to the RUC after their downfall.
The closest he got to a "successful robbery" was when he somehow managed to successfully robbed a bank with just his gun and he ran off, taking residence in Mikes area. He hid under his house for about two weeks until he was eventually discovered by Cocaine and Jebidiah. The dog and the god then decided to take back the stolen money and beat up Nigel, launching him to the sun and died yet again.
He once tried to rob Ambush Bug after that incident but AB just punched him in the face.
Ad blocker interference detected!
Wikia is a free-to-use site that makes money from advertising. We have a modified experience for viewers using ad blockers

Wikia is not accessible if you've made further modifications. Remove the custom ad blocker rule(s) and the page will load as expected.