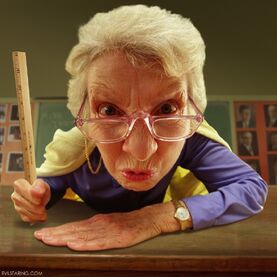 Mrs. Krinkles is a cranky, screaming High School teacher who is trying to look for a new place of education after she got fired for "Abuse and assault with a measuring stick".
One time she forced herself into the Stream communities homes and forced them all to be her students and she being the teacher. She would starve them and beat them with the stick over trivial things and she would educate people on stupid things.
It took a while but Hatter, who came back to see Mrs. Krinkles torturing everyone through bad education smacked her in the head with her banhammer. Later on people dragged her to the RUC's homeplace where for some reason, she saw the Radioactive Uber Clan as "Honor students" while any sane or kind person as "Delinquents".
In recent times she has gifted the RUC a cat named after herself (Krinkles) as a reward for being "such good upstanding students." The RUC then wrote on their wiki about it and made up a completely different story for its origins.
She is currently the principal in her own school, "Krinkles Academy" (AKA basically a literal prison).
Ad blocker interference detected!
Wikia is a free-to-use site that makes money from advertising. We have a modified experience for viewers using ad blockers

Wikia is not accessible if you've made further modifications. Remove the custom ad blocker rule(s) and the page will load as expected.